PRINT4PACK conference during HISPACK Show in Barcelona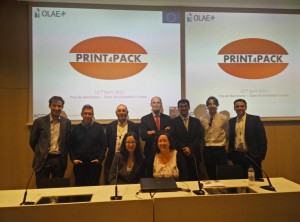 PRINT4PACK project, which develops new techniques for low cost radio frequency (RF) temperature sensing and logging for frozen food, presented its latest research developments at the HISPACK Show in Barcelona on the 22nd of April.
This was an excellent occasion to communicate to industries in the field of packaging about the project in general and the capacity of the technology developed within the laboratories. The conference held by the consortium members presented the state of the art of e-inks for printed temperature sensor, for printed RFID antenna, and for printed supercap.
More information about the project here.