Meet us at Oceanology International 2016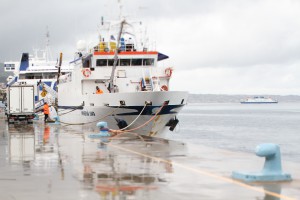 COMMON SENSE will be presented at Oceanology International 2016 the world's leading marine science and ocean technology exhibition and conference which is taking place from 15- 17 March 2016 in London, Excel. COMMON SENSE will take part in workshops and poster presentations as part of 'The Oceans of Tomorrow' event hosted by the UK's National Oceanography Centre (NOC).
If you would like to meet us, contact our maritime expert.
Members of the COMMON SENSE team will be available to meet and greet visitors throughout the event at stand A315. They will also have interactive demonstrations featuring their state of the art sensors including a Mini-Seawater Sampling System and a Microplastics Analyser. If you are vising the exhibition the team invites you to call by and learn more about the exciting work of the COMMON SENSE project and the future of marine monitoring.
Attracting visitors from a variety of industries including oil & gas, engineering, renewables and maritime security and marine science, Oceanology International gives the opportunity for buyers and suppliers to do business in one location. Oceanology International offers structured networking opportunities to help suppliers establish relationships and secure business on a global scale.