Rendez-Vous CARNOT: 2015 edition completed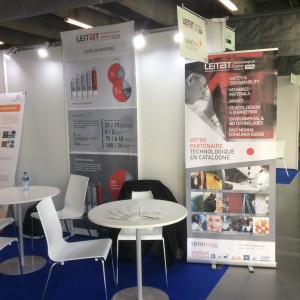 On the 18th and 19th of November, LEITAT attended the 8th edition of the Rendez-Vous CARNOT in Paris, which became the major R&D event for innovation in France. During two days, exhibitors and innovation project leaders meet and discuss innovation business opportunities. Exhibitors, such as LEITAT, presented its technological capacities and created various new contacts.
The relevance of Les Rendez-vous CARNOT relies on the perfect balance between supply and demand: only projects leaders with current projects access the B2B Meetings.
Exhibitors include the 34 CARNOT institutes' laboratories, Technological Institutes for Industry (RCTI), Innovation and Technology Transfer Departments, Technology Research Centers, Contractual research organizations (SRC), Technology Transfer and Development Organizations, Public laboratories, European Research and Technology Organizations, Engineering consultancies and Research Unit, and Actors of support and accompaniment of business innovation.
Application fields include Sustainable buildings and infrastructures, Chemistry, cleaning and safety process engineering, Electronics, micro and nanotechnologies, Fossil fuels and renewable energy, Environmental assessment and metrology, Earth sciences, natural resources, Materials and nanomaterials, Mechanical engineering, Production Engineering, Robotics, Nutrition, food technologies, Healthcare, ageing, health technologies, ICTs, embedded systems, Internet technologies, and Transport, engines, propulsion and fuel.
More infor and source on Rendez-Vous CARNOT website.