Partners' meeting: Revision of the European Ecolabel for lubricants in process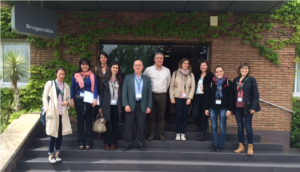 LEITAT is working on the development of the revision of European Ecolabel criteria for lubricants, under a tender from the European Commission through the JRC-IPTS (Joint Research Centre´s Institute of Prospective Technological Studies). During this process, the contact with the producers of lubricants and related products is important in order to reflect their concerns and opinions.
Last April, the manufacturer of industrial lubrication greases, BRUGAROLAS S.A., invited LEITAT and JRC-IPTS to visit their factory and to discuss about the revision process of the EU Ecolabel criteria for lubricants. Since 1885 BRUGAROLAS manufactures lubricant products to satisfy the increasing needs of the market, offering products and services in over 60 countries, with a production capacity of about 60.000 annual tones.
The visit was a great occasion for exchanging opinions about the existing EU Ecolabel criteria and for comprehending the point of view of the manufacturers.
Learn more about LEITAT and the European Ecolabel here.