Open Workshops – Energy Rehabilitation of Sports Centres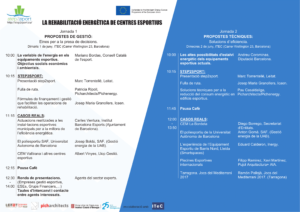 In Europe, there are over a million and a half sports facilities, number which represents approximately 8% of the buildings. Most of them were built before 1980 without considering energy efficiency criteria, so it is necessary to promote energy renovation of these buildings. According to studies conducted in the UK, sports facilities account for about 10% of annual energy consumption in the buildings sector.
The project is organising a two-day workshop open to the public in Barcelona. Click here to download the flyer of the event.
To register for the 1st of June, click here. To register for the second of June, click here.
The project STEP-2-SPORT promotes the implementation of energy efficiency measures and renewable energy in existing indoor sports facilities, as they are an important consumer of energy. Energy certification can also stimulate energy renovation of buildings sport.
The project STEP-2-SPORT aims to promote progressive energy renovation of buildings existing sport in order to achieve buildings with almost zero energy consumption, thus contributing to goals from Europe.