Life cycle analyses and Risk Analyses of nanomaterials used in textile finishing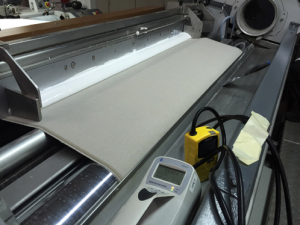 In fall 2013 EcoTexNano started its exploration towards the safe use of Nanomaterials in textile finishing operations. By now the project has entered its third-, and final year. By the end of 2016 EcoTexNano will provide a support tool for the textile finishing industry, to assess the risks for human health and the environmental impact of using nanomaterials in textile finishing operations.
Pilot productions
The core of EcoTexNano consists of pilot scale productions. During these small scaled production runs, the fabrics have been treated by either "conventional finishing" or "nano-finishing", allowing the quantification of the difference in environmental impacts and risks for human health. The applied finishes have provided the fabrics with one of the following functionalities; Antibacterial, UVprotection, Soil release or Flame retardancy.
The data collected during the production trials serves as the baseline for the risk analyses (RA) and life cycle analyses (LCA) that are being performed throughout the project. Examples of such data are the number of nanoparticles in the air (Risk Analyses) and the raw materials used, energy consumption, water consumption, (hazardous) waste streams and air emissions for Life cycle assessment.
Pilot trials were performed at Piacenza, the manufacturer of luxurious woolen fabrics, and Vincolor, the  subsidiary finishing department of Crevin (upholstery manufacturer).
Click here to download the full newsletter.