LEITAT @ ESOF 2014 COPENHAGEN
The European Commission has received a deluge of 16,000 applications in the first round of calls for Horizon 2020, its €80 billion research and innovation programme.
"We were over-subscribed by a factor of nine," said Robert-Jan Smits, director-general of DG Research and Innovation.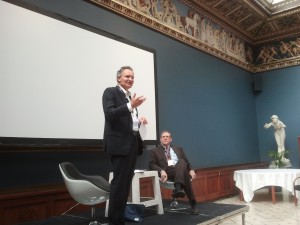 The Commission's first set of calls totaled €15 billion, and it received nine times that worth in applications, he said. That's almost double the oversubscription rate in the first round of the previous research programme, the Seventh Framework Programme (FP7). Given the strong surge in bids, the first-round success rate for Horizon 2020 applications will drop to 11 per cent, half the figure in FP7.
"It's the first time the figures have been made public," said Smits, speaking today at a session organised by Science Business at the Euroscience Open Forum (ESOF 2014) in Copenhagen. Smits suggested one reason for the heavy subscription to Horizon 2020's first set of calls could be the shrinking public research budgets in countries such as Italy and Spain.
A key goal in designing Horizon 2020 was "bringing industry back in the game," said Smits, and the first call is an early signal that the Commission was successful. Nearly half of all applicants, or 44 per cent, were from industry compared with 29 per cent in FP7. Another target was channeling more research funding to small and medium-sized companies (SMEs). Of all industry applicants in the first H2020 calls, half were SMEs.
The number of submissions from women was 23 per cent of the total, up from 20 per cent in the last programme. Of the proposals submitted by consortiums, 24 per cent were headed by women, compared to 20 per cent in FP7. Inside the Commission the balance of those evaluating the submissions has changed too – this time around, 40 per cent will be women, meeting a target set by Smits.
Asked how the Commission could cope with the dramatic surge in the volume of bids, Smits said contingency plans were in place. "It's an enormous machine we're working with." Among the calls, launched in mid-December, the most heavily-subscribed areas were those relating to health topics but also food, ICT and cyber-security, he said.
The evaluation phase will now begin and until it's complete we won't get a really strong view on the quality of applicants, he added.