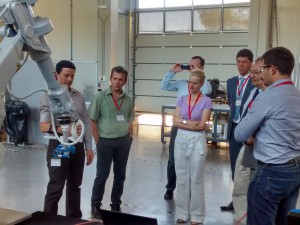 During the second review meeting of DeNeCor project, which took place in LEITAT on the 8th and 9th of July, the consortium made a demo of the DeNeCor robot. It was a premiere for the members to see live what the project has achieved after two years of research.
The robot is a system able of acquiring electroencephalogram activity during rehabilitation exercises. The goal is to improve knowledge of how these exercises affect the patient's recovery. The robotics system provides objective measurements of patients' performance such as speed and force. The purpose of the system is to improve the rehabilitation in two aspects: improve the effectiveness of rehabilitation by using the intention of user movement to drive the robotic movement kinematics, and provide objective measurements of the patient's movements to know better the rehabilitation status.
More information about the project here or on the project's website.