DeNeCor Meeting in LEITAT: Neurological rehabilitation at stake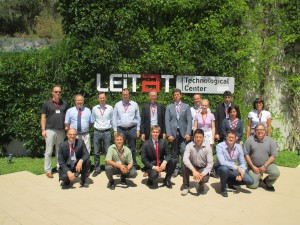 On the 8th and 9th of July, the DeNeCor consortium gathered in Leitat in Terrassa for the 2nd review meeting of the project. The project addresses the diagnosis and treatment of neurological diseases, which have an increased incidence due to the aging society.
The coordinator gave an overview of the general progress of the project, whil the core team presented its updates of their respective work packages. Discussions concentrated on themes such as electronic imaging systems, the clinical demonstrations, and Electronic NeuroModulation Devices and Systems. External experts from ENIAC attended the meeting to provide feedback and give the conclusions about this event. Last, persons associated to the project came especially to give a first preview of the rehabilitation robot, one of the main outcomes of the project.
More information about the project here or on the project's website.