Review of the Beyond Lithium-Ion Workshop
Review of the Beyond Lithium-Ion Workshop
On the 2nd of October, the Beyond Lithium-Ion Workshop – From Current Research to Industrial Application took place in Nice (France). Jointly organized by Leitat and Varta, it brought international speakers together including researchers, manufacturers and integrators.
Focused on post lithium-ion technologies, around 90 attendees were present during the event. The catalogue of the event containing the full program, the biographies of the speakers and the abstracts of the presentations can be downloaded here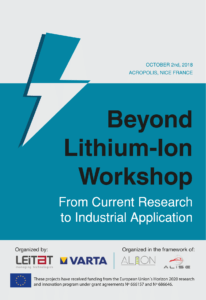 .
After each session, participants could ask online questions to the speakers. Discussions were focused on technical capacities, possible integrations, safety issues as well as market applications.
Below the public versions of the presentations made during the event: