Marisurf: How about new and natural ingredients to enhance food quality, biomed and cosmetics?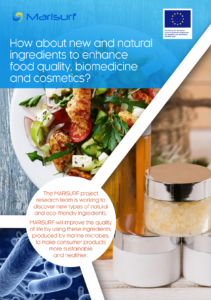 On the 23rd of March 2017, the consortium of the Marisurf project met in Barcelona in LEITAT premises for their 18M meeting. All the consortium members where present to present the upate for each task.
Marisurf aims at satisfying an increasing consumer demand for natural and 'environmentally-friendly' ingredients, as well as changing government legislation requiring a shift toward industrial use of renewable and less toxic compounds.
The consortium, consisting of academic institutions, industrial companies and end-users, offers a wide range of expertise, will address the technical bottlenecks for meeting our objectives, namely those of marine resource identification, sustainable supply, discovery pipeline and efficient production in biological systems.
The expected impact of the project is to increase the efficiency of discovery pipelines, the development of more economic and eco-friendly end-products and finally in contributing to the implementation of the objectives of the EU Blue Growth.