Tumour-on-chip: one-person-trial for drug efficacy
The project aims at developing up-scalable and standardized tumor-on-chip offering high-level in-vitro human models that recapitulate in-vivo colorectal cancers response. Herein, cost-effective microfabrication techniques will be exploited to implement a new class of microfluidics for organ-on-chip device. This device creates an advanced 3D cell distribution with a better physiological function to evaluate drug efficiency in relevant clinical conditions. The best therapy can be selected in < 5 days from cell seeding, with the key benefit of avoiding the trial-error therapies and animal experimentation. Standardization, drug studies, and image digitalization will be properly evaluated in synergy with a large Catalan MedTech Company to be affordable for both hospitals and pharma companies of Catalonia and worldwide.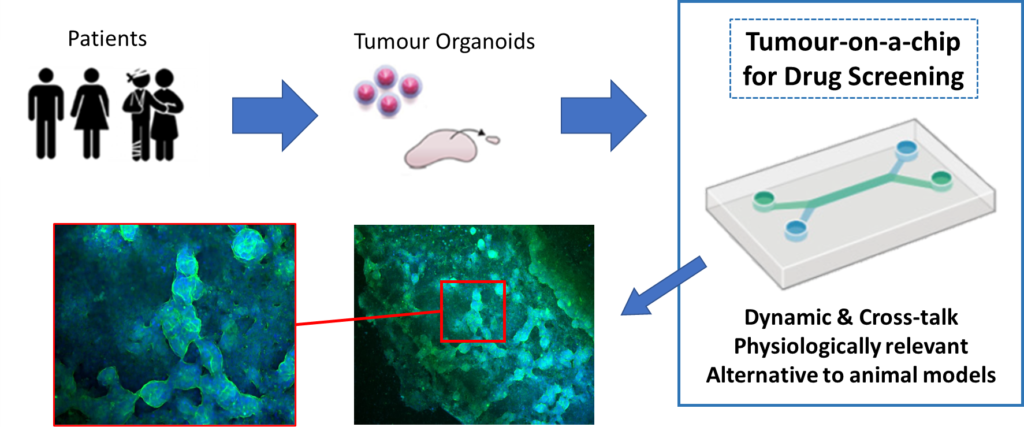 The primary application of this project is to rapidly test a series of potential colorectal cancer (CRC) drug candidates to identify the most appropriate treatment for each patient, with the view of personalized treatment. Chemotherapy is an integral part of the colorectal cancer treatment in stage III/IV, and in stage II in presence of T4 tumor or when inadequate lymph node sampling is identified. Only 5% of the people improve with the treatment. Immunotherapy, or also called targeted therapy, has been proven as very effective therapy to treat cancer patients. However, the treatment is very expensive and it is difficult to screen the best immunotherapy drug for each patient. Nowadays, only few percentage of patients with metastatic colorectal cancer are treated with such medication. Herein, we will develop a unique and multiplexed tumor-on-chip device that allows effective screening of immunotherapy drugs. This device will increase the success rate of the treatment of colorectal cancers. For a successful implementation of the device a large variety of stakeholder such as hospitals, oncology care, patients, diagnostic and pharmaceutical, laboratory services, in-vitro and in-vivo companies, regulatory/standardization entities, and research organizations and foundations will be liaised from the beginning of the project.
Project Budget: 135.240,00€
Financial Framework: 
Tecniospring INDUSTRY
Contract number: TECSPR19-1-0009