ABSTRACT
DeNeCor addresses the diagnosis and treatment of neurological diseases, which have an increased incidence due to the aging society. DeNeCoR develops, tests and demonstrates neuro devices, systems and methods for a diverse set of diagnostic and treatment modalities.
The project addresses the grand challenges of home and Hospital healthcare in the VMS Chapter on Health and the Aging Society by delivering innovative electronic devices which enable therapeutic treatment at home while at the same time DeNecor ensures co-existency with therapeutic and diagnostic systems in hospitals.
The project has three main objectives:
Develop acceptance by neurologists of electronic neuromodulation therapy by demonstrating designed coexistency between therapy devices and diagnostic systems in order to reach its full market potential.
Extrapolate IEC/ISO 10974 specifications to other diagnostic systems and the interaction between diagnostic systems and non-invasive electronics based neuromodulation therapies.
Develop test methods such that the development of therapy devices and diagnostic systems can be decoupled which increases the efficiency of the demonstrator developments and enables technical evolution of all systems at their own pace.
Project Budget: 20'056'469 €
Financial Framework: ENIAC Joint Undertaking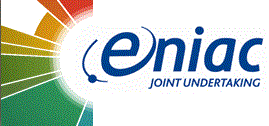 A Public-Private Partnership in Nanoelectronics Strengthening Competitiveness and Sustainability