Upcoming BioConSepT Exploitation Event: From Plants to Plastics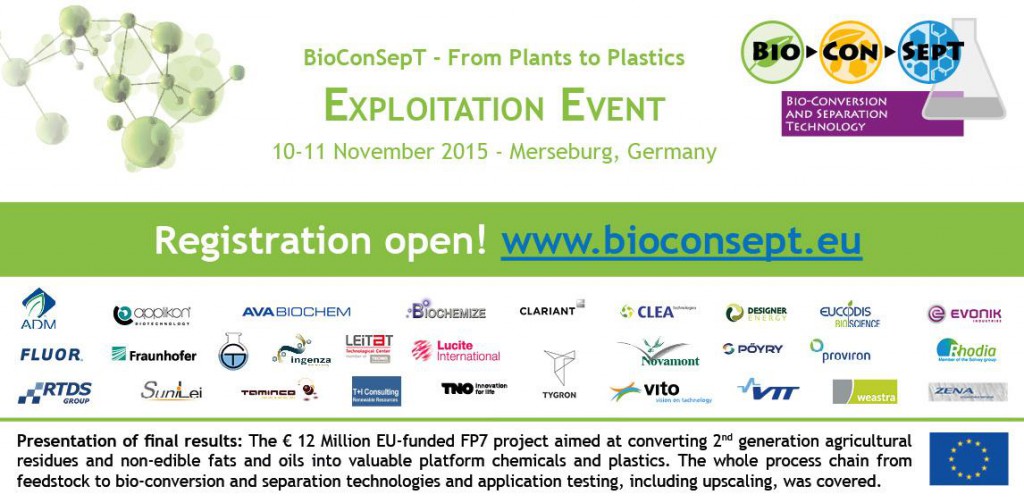 The BioConSepT project, which aims to demonstrate the technically feasibility of White Biotech processes for the conversion of 2nd generation biomass into platform chemicals, is having its exploitation event next month! During the last months, cutting edge technologies and solutions for biomass conversion, separation, upscaling and applications have been developed.
The exploitation event offers insights not only into upscaling processes, but also many other exciting project results! The program is completed with a visit to the Fraunhofer CBP pilot facility in Merseburg.
10 November, 10:00 – open end (Merseburg): From bugs to full process development
Improved fungal and bacterial host strains for production of biochemicals
Bioconversion development: biocatalysts, enzymes and fermentation development
Separation and purification technologies
Production of carboxylic acid and long-chain dicarboxylic acid
Synthesis of biosurfactants
Biobased products and application development
Process design
Visit of Fraunhofer CBP pilot plant in Leuna (transport organized)
11 November, 9:00 – 13:00 (Merseburg): Bringing the lab to pilot scale
Scaling up the fungal production of FDCA (2,5-furandicarboxylic acid)Â from lignocellulosic feedstock
Scaling up the enzymatic epoxidation of 2nd generation plant oil
Date: 10 November 2015, 10:00 – 11 November 2015, 13:00
Place: Ständehaus Merseburg, Oberaltenburg 2, 06217 Merseburg, Leipzig area, Germany
Cost: 250€ (including accommodation for one night, full catering, visit to Fraunhofer CBP pilot plant)
Registration:Â click here to register
Registration deadline: 29 September 2015
Feel free to contact:
Coordinator: Dirk Verdoes, TNO, bioconsept@tno.nl
D&E Manager: Daniela Fichtenbauer, RTDS, bioconsept@rtds-group.com
Project website www.bioconsept.eu