The 2015 Prize of the City of Barcelona in 2015 awarded to superconductors!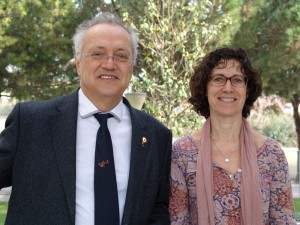 The City of Barcelona awards every year prizes to the best projects in different categories. For the category of experimental sciences and technology, The Mayor of the city of Barcelona, Ada Colau, gave the prize to Xavier Obradors and Teresa Puig for their discovery of a process of production of superconducting materials that is industrialitsable, affordable and based on ultrafast crystallization applicable to the sustainable management of electrical energy. These two researchers from the ICMAB, coordinator of the EUROTAPES project, have made significant contributions in the field of electricity and superconducting tapes.

The ceremony took place on the 16th of February 2016 in the city hall of Barcelona. This is a great recognition for the European research.
You can watch the full ceremony here.