Review of the exhibition at LOPEC 2016 in Munich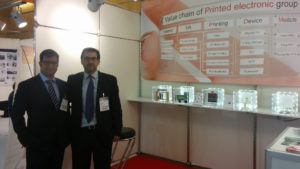 LEITAT recently presented at LOPEC 2016 at a stand its latest research results and technological development in the field of printed electronics. LOPEC is an International Exhibition and Conference for the Printed Electronics Industry, which took place this year on 5-7 of April in Munich (Germany). This is a fair and an annual conference of international renown focused on printed electronics.
In this edition, Maziar Ahmadi and Lorenzo Bautista, researchers at LEITAT, presented an innovative stand to show different demonstrators ordered according to the value chain of printed electronics: new nano-materials, electronic inks, printed substrates, devices and modules ranging from organic photovoltaic solar cells and thermoelectric modules to energy storage systems as supercapacitors printed or microbatteries. It is electronic technologies for high speed, high accuracy and low cost flexible printed on substrates such as polymeric films, metal, textile or paper substrates.
It is considered that printed electronics is one of the key technologies for future global multi-sector technological development, including technical textiles sector in completely innovative applications. At present LOPEC 2016 148 exhibitors attended from 18 different countries, representing an increase of 11% over the previous year. The most represented countries are Germany, USA, UK and Japan. LEITAT, member of the OE-A (Organic and Printed Electronics Association), was the first Spanish merchandiser in the history of the fair, which was attended by over 2,000 visitors from around 40 different nationalities.

An article regarding this matter was published in the AEQCT Newsletter ,the Spanish association of textile chemists and colorists.