Register to the Repair3D Online Summer School
The announcement of the Repair3D Summer School coincided with the escalation of CONVID-19 pandemic and the disruptions brought in every aspect of life. As a result, the project stakeholders considered every option and it was finally concluded to host a scientific webinar to present latest developments in the field of Recycling of Plastic Waste for Advanced 3D Printing Applications. In this manner the (Repair3D) Project funded in the Framework of H2020, is conducting a Summer School Webinar related to Consumer Best Practices and Societal impact for Circularity of Materials.
The Webinar will take place via Zoom, on the 14th of July 2020 and it is organized by Cambridge Nanomaterials Technology Ltd (CNAT) and Lavrion Technology and Cultural Park (LTCP), in close cooperation with the National Technical University of Athens (NTUA) and the other Partners from REPAIR3D Project. The Webinar will include a number of lectures related to plastic circularity and recycling, manufacturing of plastics composites, and the use of plastics in packaging. Specific time will be devoted to participants' questions and for an open discussion session.
The Webinar includues:
10 min introductory presentations from Scientific Coordinator and Administrative Coordinator
20 min presentations from key speakers, including Task Leader (CNAT)
10-15 min session for questions and open discussion
10min break.
The agenda of the Webinar is illustrated below: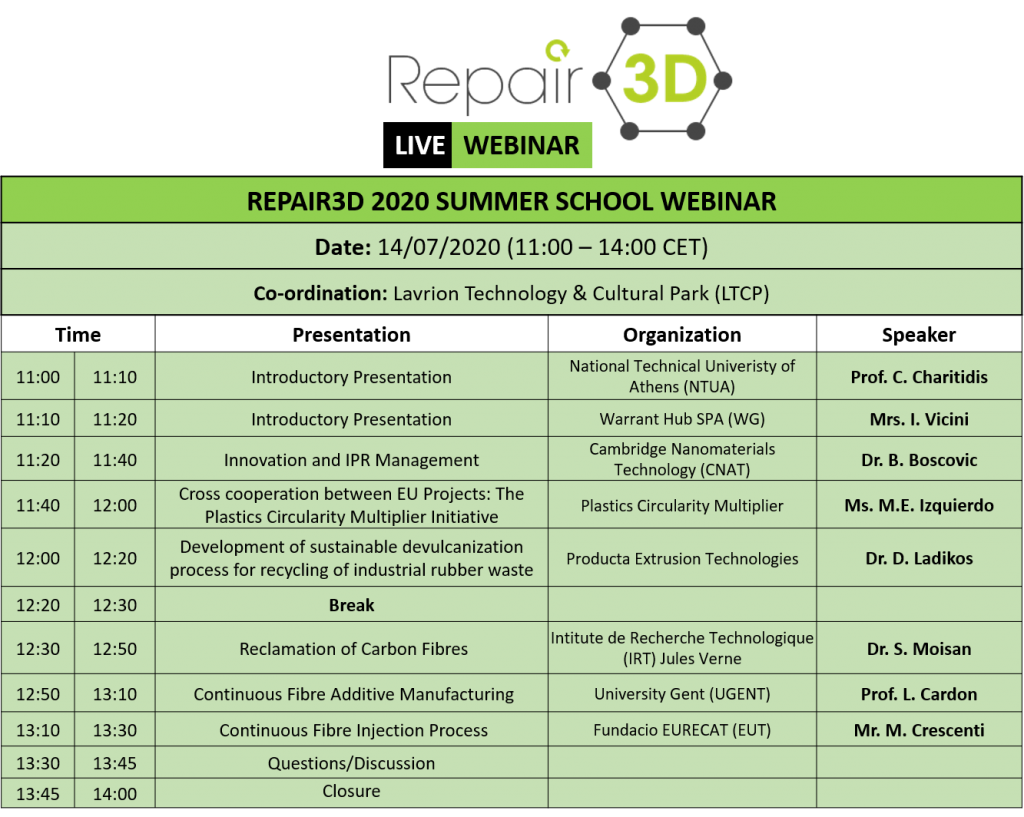 Young researchers from industry and academia, final year undergraduate students and post-graduate students (MSc and PhD students) are encouraged to apply.
There are no participation fees for the students and participants will attend for free. Furthermore, after the completion of the event all participants will receive a certificate of attendance.
Please reserve your seat by following the link below.

This project is supported by the European Union under the Horizon 2020 Framework Programme Grant Agreement no. 814588.