Nzero wax with 100% natural components thanks to a close collaboration with LEITAT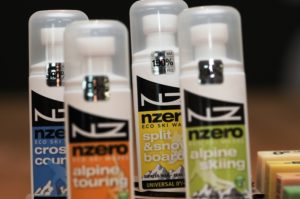 The Catalan brand Nzero, which markets ecological waxes for skis developed in close collaboration with LEITAT, has been awarded the ISPO Award 2017 for the best ecological accessory. The jury, composed of 45 judges from 13 countries and two continents, has chosen the Spanish proposal for its high level of innovation and protection of the environment and the user of winter sports.
This award recognizes the range of ecological waxes Nzero, developed entirely in Spain, as the best solution currently available to reduce the ecological footprint of the ski user, maintaining maximum performance and enjoyment during their practice.
The range of waxes awarded at ISPO is 100% sustainable and ecological, both in the range of waxes for cold application and also for hot application, being a real alternative to existing waxes based on the use of paraffin, fluorinated or other components that originate in hydrocarbons, which are highly toxic and carcinogenic.
Currently the Spanish company is the only one in Europe that manufactures and markets waxes with 100% natural components of vegetal origin and patented formulas, which respond to a growing demand of the user sensitized by respect for the environment and, in turn, To professionals looking for the best protection to their health during the repair and maintenance tasks.
The company markets its products through its website and in more than 50 specialized stores in our country. With this recognition, it hopes to expand its international network of distributors and retailers in the coming months, opening new markets in Europe, Asian countries and in the American continent.