Meet Professionals from the Wool Sector – WDS Final workshop 04/02/2016 in Barcelona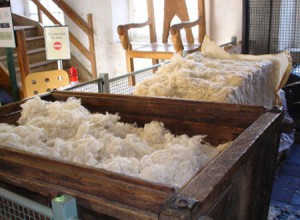 A short notice about the Final Workshop of the Eco-Efficient Dry Wool Scouring with total by-products recovery (WDS) project on the 4th of February 2016 in Barcelona.
During this event, we will present concrete results of the developments made in the WDS process. The project has developed an innovative and sustainable technological process that recovers grease (lanolin) and dust/vegetable fibre, which can find application as a fertiliser.
This event will also be an occasion to share best practices among professionals working in the field of wool.
If you have not already done so, please register here.
Click here to download the updated agenda of the workshop.
WDS is a project co-funded by the European Community under the LIFE financial instrument with the Grant Agreement LIFE 11 ENV/ES/588.This project integrates the environment into the Community policies as it contributes to develop and implement policies designed to ensure sustainable management and waste valorization.
Focus of the project:
Obtaining valuable scoured clean wool of improved combing yield.
Maximizing the value and recovery yield of grease wool components, such as a water soluble fraction, a solvent soluble fraction (wool grease- lanoline), dust and vegetal fibre; obtaining by-products with a market value.
Saving water and energy in comparison with conventional aqueous process: reducing the load in waste effluents