Fòrum biocat: How to create value in a changing healthcare and life sciences ecosystem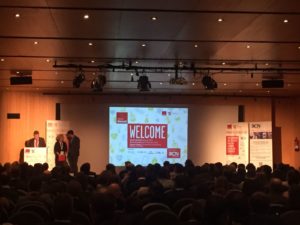 Today, on the 25th of November, the Fòrum biocat is taking place in Barcelona at the Palau de Congressos de Catalunya. Our Health experts including Izabel Alfany (International Project Manager) and Manel Balcells (Health Commissioner) are attending the event. If you want to meet us, get in touch! More information about this event here.
The new healthcare and life sciences ecosystem requires us to stay up-to-date on current trends and future challenges in the sector, helping make us more efficient in a situation of economic uncertainty, volatile markets, regulatory changes and increasing demand for innovation and generating value.
The 2016 Forum of the BioRegion of Catalonia is an international meeting to promote reflection and knowledge in this arena.
Find out about the main trends and future challenges in the healthcare and life sciences industry from a panel of experts chosen among the best speakers of the year, from Europe, Israel, the United States and Canada.
Learn more about successful public-private partnership models and best international practices in technology transfer and valorization.
Get inspired by interesting experiences from the market that can be applied to your business or unit to make it more competitive.
Chat, debate and interact with the 300 key opinion leaders who will be attending the event, which is open to international clusters for the first time.