Final Meeting of EUROTAPES: superconductive tape achieved!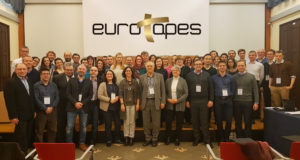 EUROTAPES project is coming to an end in February 2017 and the project consortium is meeting in Barcelona on the 13th-15th of this month to present their final results. After 54 months of research, the project will be closing as it has achieved its objectives.
The Eurotapes project has managed to produce 600 meters of superconducting tape with a process that reduces the cost of production of superconducting materials, simplifies its architecture and improves its capacity in high magnetic fields through various temperature scales. It has also obtained significant results for advanced magnetic research, a field in which reference centers such as CERN and ITER are working. In the long term, the project will allow renewable energy to be more competitive because it allows windmills to generate more energy through higher efficiency and lower generator costs.
EUROTAPES benefits from the participation of outstanding researchers for its excellence in the field of superconductors and with the involvement of leading companies and universities globally. In addition to the Universitat Autónoma de Barcelona, ​​the ICMB and Leitat; The universities of Cambridge, Antwerp and Ghent, the Technological University of Vienna and six technology centers and 8 companies from Belgium, Austria, Romania, Germany, France, Slovakia and Italy.