Devices for NeuroControl and NeuroRehabilitation: Public event on 16 November in Utrecht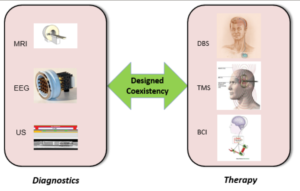 Devices for NeuroControl and NeuroRehabilitation
Today neuromodulation therapy is typically perceived as a treatment of the last resort. DeNeCoR yields a higher preference rate among clinicians in removing the main roadblock of incompatibility between neuromodulation therapy (DBS & TMS)and neurological diagnostic systems (EEG, MRI & US).
DeNeCoR will accelerate European business, since the consortium will deliver a set of coexistent devices for simultaneous neuro therapy and imaging. This will enable Europe to leapfrog the US with respect to market share of therapy devices and strengthen the leading position of Europe with diagnostic systems.
DENECOR OBJECTIVES
The primary objective of DeNeCoR is to resolve this top issue such that electronic neuromodulation therapy becomes mainstream and full market potential can be obtained.
The second objective of DeNeCoR is to extrapolate IEC/ISO 10974 specifications to other diagnostic systems and the interaction between diagnostic systems and non-invasive electronics based neuromodulation therapies. The third objective of DeNeCoR is to develop test methods such that the development of therapy devices and diagnostic systems can be decoupled.
DENECOR Public event
16 November, 13.00 to 17.00, Medical Centre, Utrecht
Keynote lecture: Peter Luijten, Professor of Functional Medical Imaging, UMC Utrecht
Exhibition—Posters & Demonstrators

Automatic detection software for evaluation of EEG, AIT, Hannes
Double layer cap, GTEC, Robert
3D US imaging probe, hardware & video
Video of coexistency set-up
Other demo's

Panel discussion
More information here.