ALION 2nd General Assembly – Aluminium-Ion battery under development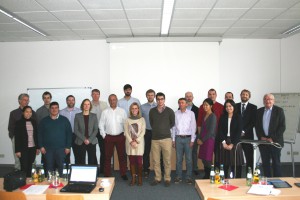 The 2nd general assembly of the ALION project on Aluminium-Ion took place on the 10th and 11th of December 2015 in Berlin. The event was organised by the Technical Univeristy of Berlin. The consortium met to discuss administrative aspects such as the status of the consortium agreement and financial aspects. Later on, the individual partners presented their work packages and the progress made in the first 6 months of the project.
ALION aims to develop an innovative and low-cost energy storage technology with improved performance, safety, and reliability.The battery is designed for energy storage applications within a grid with a stationary battery for renewable energies. But one could imagine other applications such as transport, as the charging time can be reduced significantly under specific circumstances.
Rechargeable batteries are the most used energy storage options and many technologies in this field have emerged recently. But very few research projects focused on Aluminium-Ion batteries so far, as the technology is at its very beginning. In particular, ALION is the first European project dealing with this technology as only a few scientific articles and patents have been published in USA and China.