The ultimate intention of END is to bring innovative energy-aware design solutions and electronic design automation (EDA) technologies into the product-development processes of the industrial partners of the consortium. This will enable the design and manufacture of the electronic circuits that will be at the basis of the green information society of the future.
However, minimising the energy consumption of electronic devices and circuits themselves is only a partial objective which might not coincide with the ultimate goal of increasing the energy efficiency of systems in which electronics play the role of critical enabler.
These complex systems generally include energy conversion and storage subsystems where a marginal increase in efficiency may be more than sufficient to justify a power budget to operate the electronic devices that make it possible.
In the past, these subsystems were designed in isolation and interfaced as commercial-off-the-shelf components.
Project Budget: 12'773'510 €
Financial Framework: ENIAC Joint Undertaking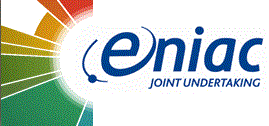 A Public-Private Partnership in Nanoelectronics Strengthening Competitiveness and Sustainability