Support us for the Scharlab photo contest and Like our picture on Instagram!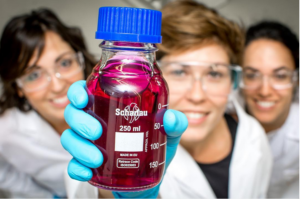 For its 2017 calendar, Scharlab opened a photo contest where organisations are invited to participate and submit a photo using Scharlab devices. LEITAT has submitted a picture and we are now asking for your support!
About the Scharlab photo contest:
All persons who work or investigate in a laboratory and who use such products Scharlau, elderly, residents in Spanish territory can compete

Each contestant must submit to Scharlab a photograph in horizontal format in high resolution (300dpi), which will receive one (1) or more brand products Scharlau® No products may appear on the photograph of other brands.

The photograph must be sent to the email info01@scharlab.com with the assignment document signed authorization photographs and image use.

The deadline for receipt of photos is set from September 15 until October 20, 2016, inclusive.

The winning photograph will be one that get more "likes" on Instagram until the day October 28, 2016 at 13:00 inclusive.

The choice of the winner will be announced on November 4, 2016.

The amount of the prize is € 1,000 gross photography and a voucher for € 1,000 VAT Included in Scharlau® brand products for the center to which the winner to be used in a research project and / or development is assigned.