Shipbuilding of the Future – Innovative materials and production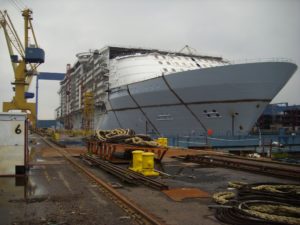 On the 20th and 21st of June, the Center  of  Maritime  Technologies  e.V.,  CFK  Valley e.V., the  European  Factories  of  the  Future  Research Association  (EFFRA) and  the Fraunhofer Application Center for Large Structures in Production Technology (Fraunhofer AGP) organised a workshop around the theme of materials and production innovation in the Maritime Industry. LEITAT actively participated in this workshop to exchange ideas and learn about recent developments in the field.
The European Maritime Industry is a leading developer and producer of highly complex, one-off products. European-built ships and offshore structures are "XXL" products which have to perform challenging missions, thereby withstanding harsh and hazardous environments. To maintain and extend its market position, system integrators and producers constantly need to adopt and apply newest technology.
At the same time, Europe is home of various key technology providers that offer high end solutions for manufacturing technology, productionmanagement and material sciences. The ongoing dynamic development in various disciplines (e.g. additive manufacturing and automation, Industrie 4.0, smart materials) is generating a wealth of opportunities for innovation in production.
The workshop will bring together key technology providers and their potential end users, and provide an opportunity to initiate cooperation. Shipyards and their partners will introduce successful innovation measures already implemented. This part of the programme includes a guided tour to Meyer Werft, one of the leading European shipyards. Technology providers will present mature technologies that have a high potential to further improve the leading position of Europe's maritime industry. Opportunities will be given to initiate cooperation, discussions and networking.
Among the speakers will be presenters from European Shipyards, material research networks, production equipment manufacturers and research institutes.