Retrospect of the MatHero Industrialisation and Standardisation Workshops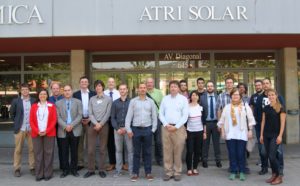 On the 26th and 27th of May 2016, MatHero organised two large public workshops on standardisation and industrialisation of organic photovoltaic. It took place at the University of Barcelona and jointly organised by CEA and LEITAT with the support of large industrial platforms such as Solar Power Europe and EMIRI. It was a great occasion for the project to present its activities to a large research and industrial community but also to exchange knowledge and results with pioneers in the field of OPV.
During the Standardisation Workshop critical aspects related to PV regulation & standardisation were addressed upstream through the OPV prism, identifying the routes to define future standards. Experienced researchers highlighted aging protocols, gas barrier measurements, encapsulation assessments, and standardisation processes.
During the Industrialisation Workshop, Key Exploitable Results of MatHero and representatives from different industrial sectors covering all OPV value chain discussed the possibilities of industrialisation of OPV materials and products. It included speaker from various European countries and Asia.