The European project GLAM develops a multiplexed biosensor for personalized diagnosis and therapy for bladder cancers
The European project GLAM develops a multiplexed biosensor for personalized diagnosis and therapy for bladder cancers
The international research consortium led by Leitat had their final meeting this month in Barcelona and finalized the first prototype of the biosensor.
 Barcelona, May 30, 2019 – GLAM is a European research project that developed a sensor able to detect multiple bladder cancer biomarkers from a few drops of urine. The device, based on photonic and monoclonal antibody biosensor technologies, shows various advantages compared to current techniques: it is fast, ultra-sensitive, simple to use, portable, and cheap. The project was coordinated by Leitat and involved 9 other partners from 6 different EU countries: the Institute for Bioengineering of Catalonia (IBEC) and the  Institute of Photonic Sciences (ICFO) in Spain, the University of Twente and Radboud University Medical Center in the Netherlands, WizSoft in Israel, the Université Libre de Bruxelles (ULB) and Obelis S.A. in Belgium, Novelic in Serbia, and Optocap in the UK.
During the last 4 years, the partners created a prototype of the sensor, which can detect up to 10 biomarkers in urine. This will help oncologists make better treatment decisions according to the patient's needs in a non-invasive manner for bladder cancer diagnosis. Moreover, the consortium published several papers and applied for a patent. GLAM had a budget of 4'835'586 euros, financed through the EU's Horizon 2020 research programme.
According to Francesc Mitjans, technical project coordinator at Leitat, "This is a step towards truly personalized medicine in cancer. The device might allow the identification of new prognostic patterns for a better classification of patients, prognosis evaluation and treatment decision."
Contact:
Francesc Mitjans
+34 93 788 23 00
Press:
Max Viallon
+34 699 05 04 81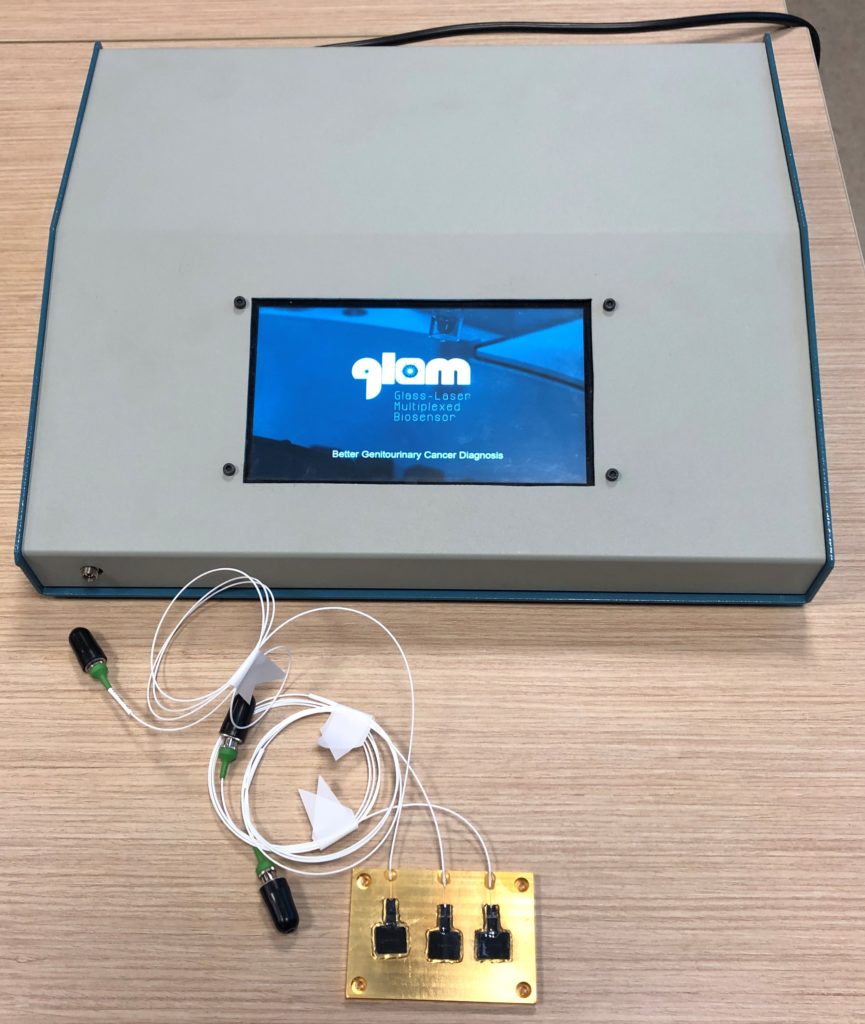 El proyecto europeo GLAM desarrolla un biosensor multiplexado para diagnóstico y tratamiento personalizados del cáncer de vejiga
El consorcio internacional de investigación liderado por Leitat tuvo su reunión final este mes en Barcelona y finalizó el primer prototipo del biosensor.
Barcelona, ​​30 de mayo de 2019 – GLAM es un proyecto de investigación europeo que desarrolló un sensor capaz de detectar múltiples biomarcadores de cáncer de vejiga a partir de unas pocas gotas de orina. El dispositivo, basado en las tecnologías de biosensores de anticuerpos fotónicos y monoclonales, muestra varias ventajas en comparación con las técnicas actuales: es rápido, ultrasensible, fácil de usar, portátil y económico. El proyecto fue coordinado por Leitat e involucró a otros 9 socios de 6 países diferentes de la UE: el Instituto de Bioingeniería de Cataluña (IBEC) y el Instituto de Ciencias Fotónicas (ICFO) en España, la Universidad de Twente y el Centro Médico Universitario Radboud en los Países Bajos, WizSoft en Israel, la Université Libre de Bruxelles (ULB) y Obelis SA en Bélgica, Novelic en Serbia y Optocap en el Reino Unido.
Durante los últimos 4 años, los socios crearon un prototipo del sensor que puede detectar hasta 10 biomarcadores en la orina. Esto ayudará a los oncólogos a tomar mejores decisiones de tratamiento de acuerdo con las necesidades del paciente de manera no invasiva para el diagnóstico de cáncer de vejiga. Además, el consorcio publicó varios documentos y solicitó una patente. GLAM tenía un presupuesto de 4'835'586 euros, financiado a través del programa de investigación Horizonte 2020 de la UE.
Según Francesc Mitjans, coordinador técnico del proyecto en Leitat, "Este es un gran paso hacia una medicina verdaderamente personalizada contra el cáncer. El dispositivo podría permitir la identificación de nuevos patrones de pronóstico para una mejor clasificación de los pacientes, la evaluación del pronóstico y la decisión de tratamiento".
Contacto:
Francesc Mitjans
+34 93 788 23 00
Prensa:
Max Viallon
+34 699 05 04 81