Presenting Connected Harbors at Smart Systems Integration
Today and tomorrow, the Smart Systems Integration Conference and Exhibition is taking place in Barcelona. It brings together experts in smart systems and their applications from all over Europe.
During this event, the Smart System Group of Leitat is presenting a poster of the PortForward project. The project aims to develop the necessary tools to created a green and sustainable ecosystem for the EU Port of the Future.
About PortForward: Nowadays, transport centres are in the need of new, innovative solutions that allow them to be more efficient, sustainable and user-centred. Ports are no exception to this situation, with some important challenges identified but not solved yet. Some examples of these challenges that need to be addressed are: lack of efficiency in its operations, no real time monitoring of freight flows, no monitoring and management of maintenance, cargo or passengers, no relation with its surroundings and notable environmental impact due to its activities. The approach of PortForward project aims to provide a solution to some, or even all, of these challenges and to start shifting from the actual, traditional, port model towards the port of the future. This change of course will be produced with the next approach.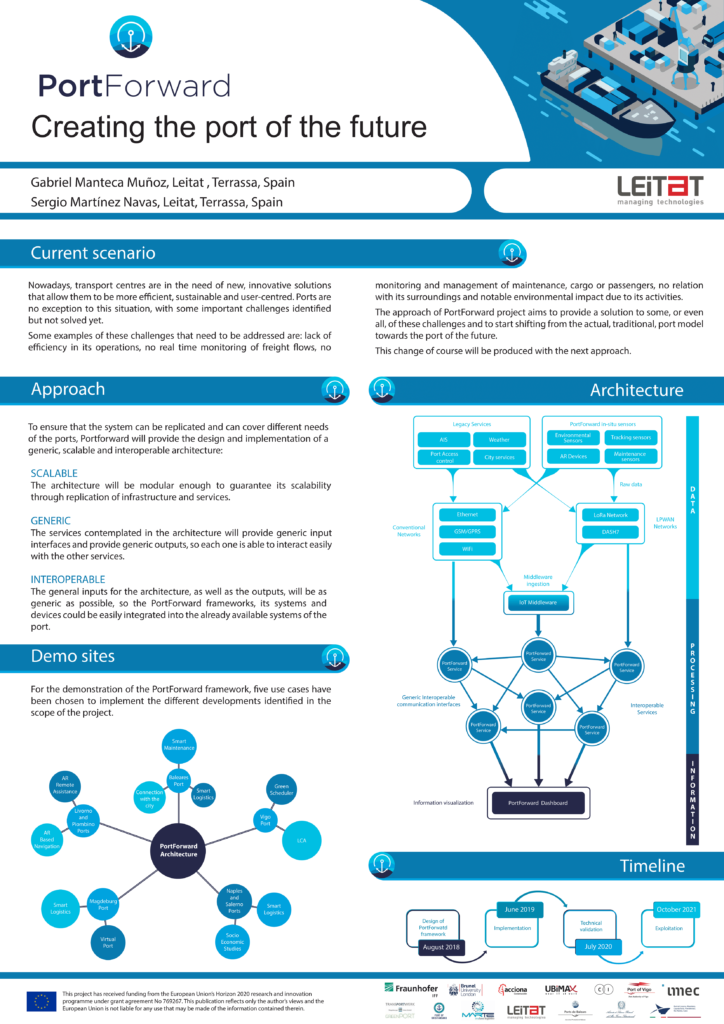 To ensure that the system can be replicated and can cover dierent needs of the ports, Portforward will provide the design and implementation of a generic, scalable and interoperable architecture:
SCALABLE
The architecture will be modular enough to guarantee its scalability through replication of infrastructure and services.
GENERIC The services contemplated in the architecture will provide generic input interfaces and provide generic outputs, so each one is able to interact easily with the other services
INTEROPERABLE The general inputs for the architecture, as well as the outputs, will be as generic as possible, so the PortForward frameworks, its systems and devices could be easily integrated into the already available systems of the port.