LEITAT supporting JRC's new Policy Brief on the Internationalisation of RTO's through EARTO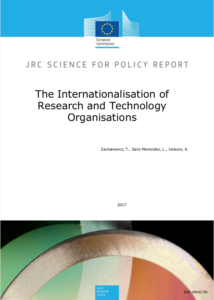 LEITAT is proud to be included in the JRC's new Policy Brief on the Internationalisation of RTOs. Thanks to EARTO, LEITAT could share its experience regarding its internationalisation process in Chile.
About the Brief: In the last decades, Research and Technology Organisations (RTOs) have progressively extended the scope of their activities outside their country of origin to produce high impact R&I. The aim of this policy brief is to come to a guiding document for RTOs to engage in the process of internationalisation and to provide benchmarks to policy makers dealing with the governance and funding of RTOs. This report builds both on insights from the academic literature and practical experiences of RTOs. The main empirical input for this report stems from a joint workshop organised by the JRC and EARTO on 21 June 2016. (Source: European Commission, DG RTD)
The message from EARTO: At a time when the societal challenges that affect our everyday lives are increasingly complex and of global scale, Research and Innovation (R&I) have expanded beyond the national borders to become fully internationalised. Today, the creation of excellent knowledge, ideas and innovations are nurtured by international networks of cooperation. Research & Technology Organisations (RTOs) are key actors in those networks, and their internationalisation is becoming essential to fulfil their core mission of producing high impact R&I.
In line with Europe's ambition to be "Open to the World", EARTO was very happy that the European Commission's Joint Research Centre (JRC) looked at RTOs' Internationalisation process in their new Policy Brief on the Internationalisation of RTOs. This analysis builds on great examples of what RTOs can do at a global scale, working with partners all around the world to discover new diagnostic tests for diseases like Ebola, improve air quality in the big cities, or make airports' security measures more efficient. Most RTOs have internationalised their activities: TWI (UK) works across 70 countries worldwide and is linked to over 1000 companies outside the UK; Imec (BE) employs researchers from 74 different nationalities; Fraunhofer (DE) has over 30 research units outside of the EU; DHI (DK) has over 80% of its turnover coming from international funding. And these are just a few examples among the 350 RTOs represented in the EARTO network.
The internationalisation of RTOs is also acknowledged as a crucial feature for supporting industry's R&I needs, boosting jobs, growth and competitiveness and leveraging Europe's R&I potential. These activities are worth supporting and we hope that this JRC policy brief will help bring forward a new thinking on such issue.