LEITAT Foundation, FC Barcelona Foundation and Bioiberica S.A. join to study sports injuries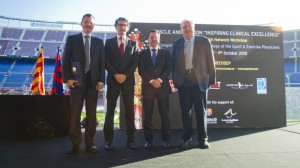 LEITAT Foundation, FC Barcelona Foundation and Bioiberica S.A, a biotechnology company specialised in arthritis and health, have joined forces to investigate the most common sports injuries, particularly around of muscle, tendon and ligaments.
The three organisation have reporteted that the aim of the research is to prevent sports injuries, and get new treatments to shorten the recovery time and avoid recurrences.
Board member of FC Barcelona Jordi Mones said that the mission is "to prevent injury and facilitate maximum recovery of athletes."
According to FIFA and UEFA, the overall incidence of injury among professional football players is 10.2 to 35 injuries per 1,000 hours of play, and from 1.8 to 7.6 injuries per 1,000 hours of entertainment.
70% of the injuries occur in the lower extremities, meaning that a professional team suffers on average of 12 muscular injuries per season, equivalent to over 300 days off game.
MuscleTech Network, the scientific platform created by FC Barcelona Foundation, LEITAT Foundation, and the R&D division of Bioiberica, is a joint research unit formed by professionals already working on different projects in the field of sport injuries.
The MuscleTech Network hold its 7th edition workshop this week, were DeNeCor project presented its robot that offers a new way for the rehabilitation of athletes by going further in the treatment personalisation at low cost.
More information about this on LAVANGUARDIA and Bioiberica.