Discover new lightweight, flexible and smart protective clothing for law enforcement personnel
SMARTPRO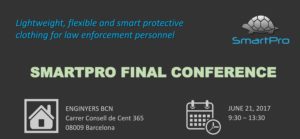 develops lightweight, smart and ergonomically designed protective clothing for law enforcement personnel, by applying specific surface treatments on the protective fabrics and incorporating smart systems, i.e. heart rate sensor, gas sensor and textile antenna.
Join us at our final conference to learn more about the results, and discuss with the developers the potential of further exploitation! The event will take place on the 21st of June 2017 in Barcelona in Enginyers BCN from 9:30 to 13:30.
The programme includes presentations about innovative protective materials and design innovation, smart systems in body armour applications and the presentation of the prototypes developed during the project.
The entrance is free of charge. To register, contact the project coordinator: Silvia Pavlidou.
To download the programme, click here.