DemEAUmed in the news: 270 litres of water per day by hotel customer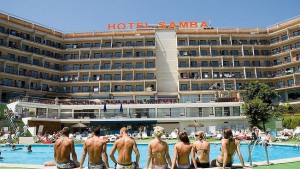 Ara.cat recently published an news article about DemEAUmed project to raise awareness around the problem of excessive water consumption in Mediterranean tourist facilities.
demEAUmed is a European project co-funded by the European Union under the 7th Framework Program, and started officially on January 1st, 2014 for over 42 months (2014-2017). Seven countries are establishing this project; Spain, Germany, Netherlands, Austria, Italy, France and Belgium.
The aim of demEAUmed project is the involvement of industry representatives, stakeholders, policy-makers and diverse technical and scientific experts in demonstrating and promoting innovative technologies, for an optimal and safe closed water cycle in Euro-Mediterranean tourist facilities, leading to their eventual market uptake.
Reduction of fresh water consumption in hotel installations, green and recreational areas, etc. will be achieved by using alternative water sources, such as treated groundwater, treated rainwater or the reuse of treated grey waters and/or wastewaters within the resort.