Breeze Innovation Workshop: Indoor Air Treatment Solutions
On the 30th of November, Leitat is organizing within the framework of the Clean Sky 2 project Breeze, an online workshop about indoor air treatment solutions
This workshop will gather experts in the field of indoor air treatment solutions, including elimination of gaseous pollution, microorganisms (i.e. SARS-CoV-2) and particle. Applications can be for transport, buildings, and new materials. Participants will gather information about recent developments in the field and will have the opportunity to create new business contacts for future collaborations.
Speakers at the workshop are coming from the following organisations: Airbus, Fraunhofer IBP, Liebherr, Pall, Ciemat, Airelimpio, and Leitat. Below the agenda.
Participation to this event is free but registration is required. If you are interested in attending, download the registration form. Please send the filled form back to info@cnt-innovation.com in order to receive a confirmation of your registration and additional information including agenda and ZOOM link.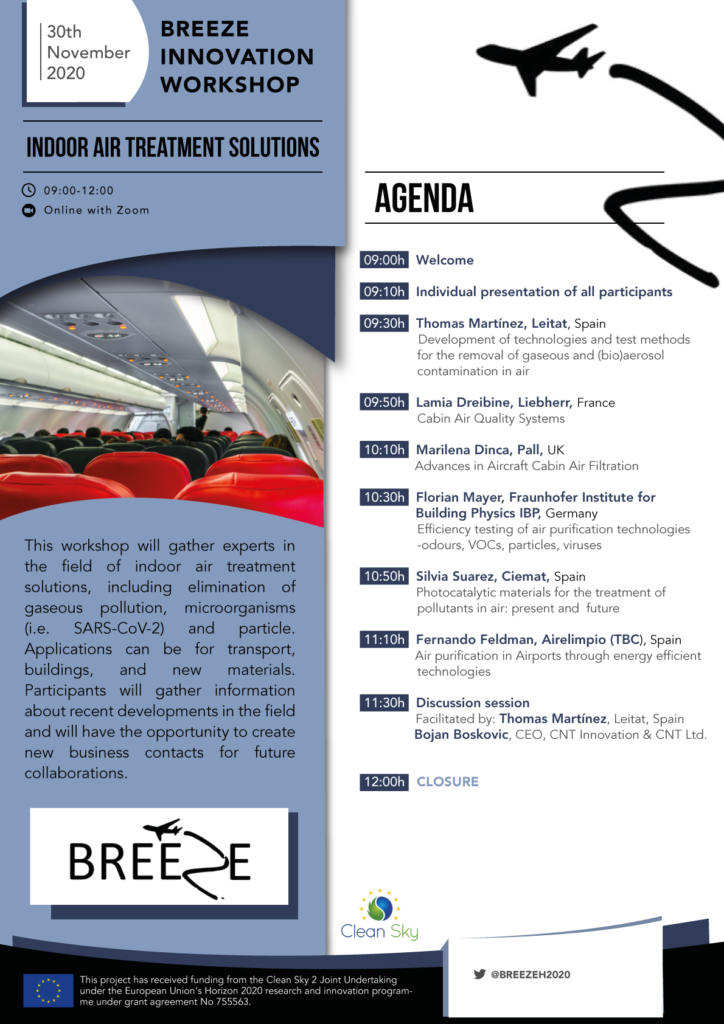 ---
Breeze is an European research project developing an alternative air purification filter based on combined adsorption and photocatalytic oxidation using UVA-LEDs as irradiation source. The efficiency of Breeze technology is being validated for the elimination of VOCs (>85% removal), PBDEs (up to 95% removal), ozone (up to 80% removal) and bio-contaminants such as bacteria and viruses (>95% inactivation). Ageing tests are carried out in order to validate under real pressure and humidity conditions the air filter durability, which will be of at least 3,000 h. The optimised Breeze device (including also a particulate filter) is being integrated in an Environment Control System demonstrator for its final validation in a real environment.