BOATCYCLE selected as a best practice for circular economy in LIFE projects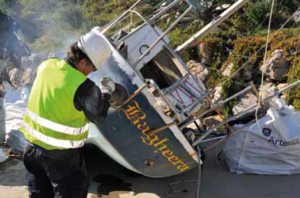 In a recent publication of the European Commission entitled "LIFE and the Circular Economy", the BOATCYCLE project has been selected to illustrate the integration of the ecodesign concept into LIFE projects. To learn more about this project and the LIFE programme, read the report here.
Ecodesign principles can make the dismantling of recreational boats easier, thereby recovering materials for use as secondary raw materials. The BOATCYCLE project (LIFE08 ENV/E/000158) developed a guide for the sustainable production and ecodesign of yachts, sailing and inflatable boats, and helped turn four waste streams from boat scrapyards (fibreglass, neoprene, wood and PVC) into a resource. LCA results showed that recycling these materials could reduce environmental impacts by around 50%. The guide is helping in the development of innovative ecodesign approaches for boatyards.
The project's main objective was to reduce the impact of the marine industry in environment through the development of methodologies for ships treatment as waste both as management and waste recovery. The project concentrated on the dismantling waste of three types of recreational boats (wood, fibreglass, neoprene and PVC), previously treated with new additives in polymer composites. To reduce the environmental impact, this project focuses on providing the recovery and recycling methodologies through pilot projects, increased environmental awareness, and provide guidance for future implementation of adoption of best practises and regulatory measures. It promoted sustainable production of boats based on an approach of LCA and eco-design.