Developing cost-effective sensors to observe the ocean in real-time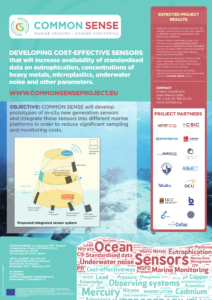 DEVELOPING COST-EFFECTIVE SENSORS that will increase availability of standardised data on eutrophication, concentrations of heavy metals, microplastics, underwater noise and other parameters.
COMMON SENSE will develop prototypes of in-situ new generation sensors and integrate these sensors into different marine platforms in order to reduce significant sampling and monitoring costs.
Expected project results:
Integration of specific innovative sensors into modular systems which can be easily adapted to different monitoring requirements and deployment platforms.
Common Sensor Web Platform which will provide a more sophisticated view of the environment by implementing Open Geospatial Consortium Sensor Web Enablement standards and optimising data acquisition, indexing, access and interoperability.
Deployment and testing of multifunctional sensor packages using floating devices, buoys, platforms and ships, under different sea conditions in key locations.
Effective Knowledge and Technology Transfer ensuring maximum value and benefit from the COMMON SENSE project.
Click here to download the poster!
AND if you want to learn more about COMMON SENSE, click here to register for our public event in Barcelona!